As I roam the wilds of Northern Minnesota the creative writer stirs within me. I connect to the ancient cycle of life. Peace settles on me like snow that floats through barren branches and covers the waiting forest floor. In time, the orchestra of spring drowns out the winter silence. A bass shatters the stillness. The rhythm of canoe and paddle on back-country water plays a melody in my heart. The Geese gather. Autumn winds blow. The oak ridge drops its color in a carpet of golden hue. I am captivated by the possibility of a face to face encounter with the North American Whitetail. This is where my tale begins.
My hope is that you discover your outdoor legacy as well. Listen to the story around you, and hear its voice.
Peace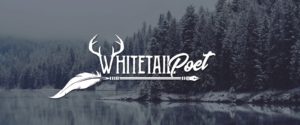 Next Steps…
Enjoy our Whitetail Poet stories, poems, photography, and field wisdom. You may type in key search words on the Blog page to find specific topics, or simply scroll through the content. Please contact us with your comments, suggestions, or requests.
Thank You.