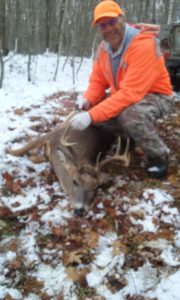 My name is David Bakke and I am the founder of Whitetail Poet.
I married the love of my life Dori, and just celebrated thirty-four years of life together. We raised our two children in a small farm town nestled between the lakes and open prairie in west central Minnesota.
I grew up in the lake country just east of our present home and have loved the outdoors my entire life. As a boy, and teenager, I spent hours exploring the local woods at our Round Lake cabin and cruising the waterways in a two-man Folbot Kayak along with a Lund fishing boat equipped with a reliable Johnson outboard motor. The Pelican River behind our house in Detroit Lakes became a place of adventure when I was not at our cottage as well.
In my early twenties I was introduced to Christ and deer hunting, both have influenced my life in a great way. I have followed my faith into a lifetime of youth ministry, music, and rural missions in the upper mid west and Canada. In my hunting journey, I progressed from a party hunter, to a still hunter, and now enjoy the solitude of the solo chase with my bow from eye level as a ground hunter using natural cover for the majority of my Whitetail pursuits.
I am a sign painter by trade, employing old school hand lettering, and sign-art techniques, in a seasonal business. Recently, I returned to college to earn an English degree from Minnesota State University Moorhead with a goal to teach English Language Arts in our rural area.
In my first High School creative writing class I discovered the enjoyment and satisfaction of putting pen to paper. Now I am privileged to be moving my career into the field of writing and literature.
God bless ya,
David Bakke