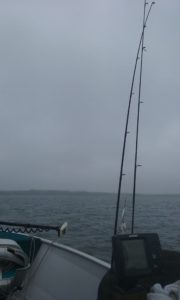 I pulled a hoodie over my cap as a shield against the spring air while the outboard pushed us over gray waters. The motors drone was a welcome and familiar sound. Rain threatened, but my buddy Bill and I jumped at a chance to scuttle across the lake after hopes of an early morning outing were canceled by heavy clouds releasing their moisture. The Johnson sputtered to a stop. Bill set up the electric trolling motor and maneuvered us through patches of reeds in search of our quarry.
Tucked out of the wind on the west side of Round Lake the weather was overcast but pleasant. I grabbed my set-up and began to cast. We were trying for bass. Intermittent chatter kept us busy until the fish were located… old stories we have heard a hundred times… but never grow weary of repeating.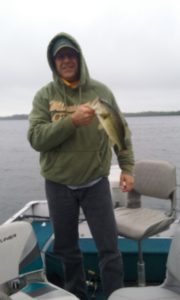 My rod bent like a willow branch clutched in the hand of a little boy. We found our hole. The offerings were not huge but respectable, and the action kept us engaged for an hour with bursts of success followed by moments of anticipation. Bill worked the bass beds back and forth. A pair of Loons watched our efforts at a safe distance.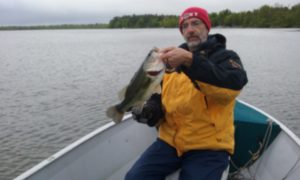 We held on as long as we could, but the promise of sun was squelched, and the menace of rain forced us to abandon our spot and race back to the cabin. Rigs secure, the trustworthy boat motor fired up and took off with an eager jolt. The aluminum hull bounced off the chop with a sharp slap as the vessel pulled away from the calm side of the lake and into open waters.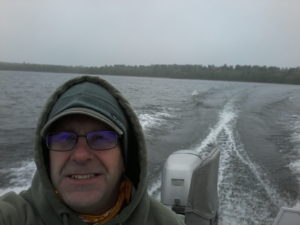 Drops of an imminent deluge hit our faces as we scurried for the shore.  We glided to the dock-lift and silently, each did our part, and secured the craft. The heavens cut loose. We hustled up to the cabin in time to escape a solid drenching. Once safe from the down-pour, I grabbed a cup, some snacks, and we kicked back on easy chairs to watch some fishing and hunting shows… and tell more well-worn lake tales!
Anytime on the water is a good time, and anytime with an old friend is time well spent. Minnesota lakes offer a wide range of experiences, temperatures, and adventures to enjoy their beauty. I hope you can get out with a good buddy and take advantage of the water access in your area. Happy fishing!
Peace